Google messaging adds iPhone text response support and in-app reminders. When it comes to convincing Apple to embrace the Rich Communication Services (RCS), which Google claims would improve cross-platform communication, the search giant has spared no effort. Google has had little to no success up to this point, so the company is focusing its efforts on things that are within its control. One such thing is enhancing its RCS client on Android, called Messages, with new features that will make life a little bit simpler for those on the other side of the green bubbles.
The messaging software Google Messages is getting a plethora of new features, some of which include the capability to respond to messages that have been received from an iPhone, the option to make reminders, and an in-app YouTube video player that allows users to view films without having to leave the app.
Rich Communication Services, also known as RCS, is the collective effort of several industry players to supercharge the traditional SMS with modern features such as richer texts with reading receipts, typing indicators, high-quality video sharing, stickers, and end-to-end encryption. These are just some of the parts being added to the traditional SMS. Over the last several years, support for RCS has been made available to over 500 million people across the globe by Google, Samsung, and several other companies, including telecom carriers; nevertheless, the Apple ecosystem has remained resistant to the technology. In recent quarters, Google has made significant efforts to beam new features to its RCS and messaging app aggressively.
Google first released an upgrade to the Messages app in March. This update allowed users to see the responses of other iPhone users to text. It is now introducing the option to communicate answers to users of the iPhone as well.
There has been a heated discussion concerning the green and blue bubbles. When iPhone users speak with other iPhone users, the text that is seen is enclosed in a blue bubble, indicating that they are using iMessage, enabling features like animated emojis and responses. When an Android user sends a text to an iPhone user, the message appears in a green bubble, which is the same as traditional SMS but does not include any rich media elements.
Users of either of the two mobile operating systems would be able to enjoy features such as high-quality video sharing, read receipts, typing indications, stickers, and more if Apple implemented RCS. Still, Tim Cook and the company have been unmoved by Google's efforts to convince them. At least some cross-platform responses are now part of the mix, thanks to the latest version of Messages.
Additionally, Google will release several capabilities already available in other messaging applications such as WhatsApp and Telegram. These features will be integrated into Google Allo. The first function allows users to "star" messages to store essential information like an address, a code, a phone number, or even a favourite joke. You can get to these messages by pressing the menu button with the three dots and then navigating to the part with the stars.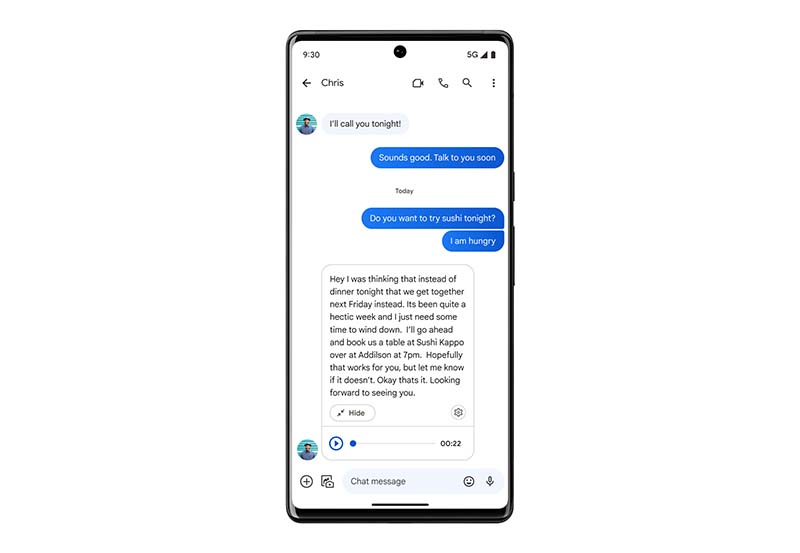 The recent upgrade allows users to respond to individual messages inside a group chat. In addition, customers get access to an in-app player that allows them to view videos from YouTube.
Additionally, the Messages app will allow you to make in-app reminders, which may be useful for important dates like anniversaries, birthdays, and events. After creating these reminders, you will see them displayed when you first access the app. Unless, of course, you prefer to utilise Google's pre-existing checklists and reminders, in which case you may use them instead.
During the event earlier this month, Google said that it would offer speech transcription to the Pixel 7 and Pixel 7 Pro. Now, the firm is adding support for this functionality inside the Messages app for the Google Pixel 6, the Google Pixel 6 Pro, the Samsung Galaxy S22, and the Galaxy Fold 4.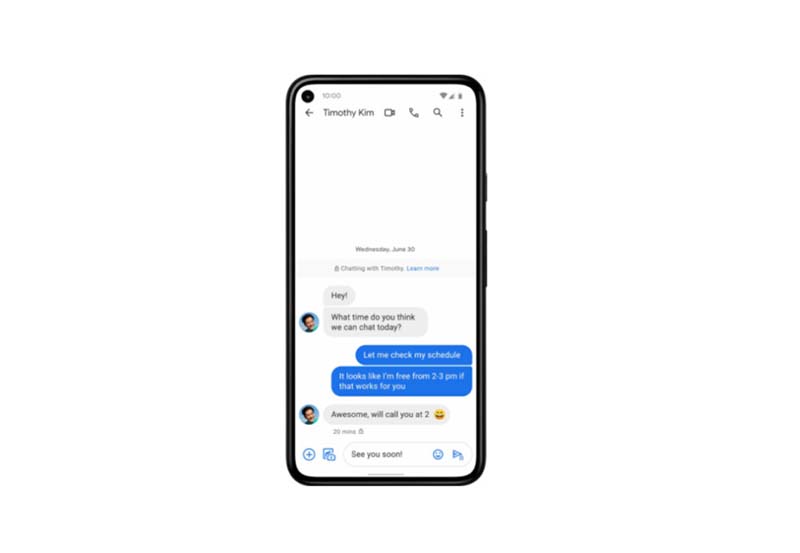 Google is also experimenting with location-specific features in several of its products. The Messages app now enables users in some locations — Google did not specify which ones to communicate with companies they discover using the Search or Maps features of the company's products. Additionally, the business has formed a partnership with United to provide customers with the ability to text using RCS utilising in-flight Wi-Fi beginning in the autumn of this year, with support for most airlines.