The United Kingdom is well-known for its gorgeous countryside, distinguished by rolling hills and little towns; hence, what could be more appropriate to take in all of this natural beauty than staying in a charming farmhouse? Farmhouse stays are becoming increasingly popular in the United Kingdom as many people seek a peaceful respite from their stressful lives. There is a range of old buildings and refurbished cottages available, so a farmhouse stay fits every budget and desire. In this article, we will look at some of the best farmhouses in the UK and discover what makes them unique. There is something for everyone in the world of UK farmhouses, from the old-world charm of historic buildings to the modern amenities of newly renovated cottages. Please grab a cup of tea and join us as we travel through some of the most beautiful regions of the British countryside in quest of the most lovely farmhouses.
The Beauty of Farmhouse Stays in the UK
Farmhouse stays in the UK have a unique charm and tranquil ambiance that is rare in other housing types. Farmhouse stays are growing more popular in the United Kingdom. Many farmhouses may be found in the countryside, surrounded by rolling hills and huge fields. These surroundings provide true relief from the hustle and bustle of ordinary life. The experience is enhanced because it takes place in a farmhouse with exposed wooden beams and antique furniture and accessories.
Farm stays may range from staying in historic houses preserved for generations to staying in modern cottages that provide all of the comforts of home and more. Many farmhouses have undergone laborious renovations to retain their historic charm while providing modern comforts such as high-end bed and bath linens, wireless internet access, and fully-equipped kitchens. Some farmhouses even go so far as to provide one-of-a-kind activities to their tourists, such as farm-to-table dining, horseback riding, or pottery workshops, so that they may get thoroughly immersed in the culture of the region.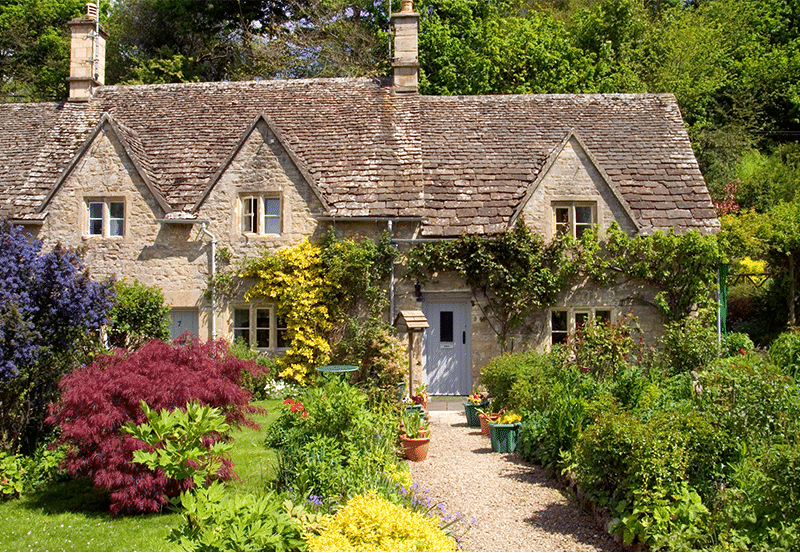 One thing that makes farmhouse stays among the most appealing aspects of these sorts of accommodations is the ability to disengage from modern technology and enjoy a more straightforward way of life. Guests are encouraged to take advantage of the lack of distractions such as TVs and mobile phones by wandering out into nature, reading a book while sitting by the fire, or just relaxing and soaking in the spectacular scenery. This slower pace of life may be highly therapeutic, allowing tourists to return home feeling revitalized and rejuvenated after their time away.
A stay in a best farmhouses in the UK is a one-of-a-kind experience that will be remembered whether you are searching for a romantic getaway, a family vacation, or a lonely adventure. Given the vast range of charming and beautiful farmhouses offered, there is something for everyone.
Uncovering the Best Farmhouses in the UK
Best farmhouses in the UK each have their personality and may give visitors an unforgettable experience. The following are some of the most highly recommended farmhouses in the United Kingdom for your next holiday: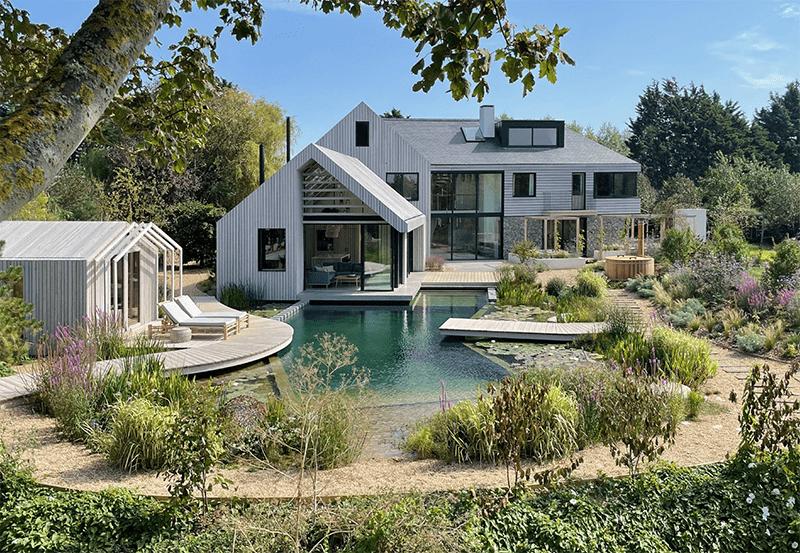 Cwmcrwth Farmhouse is a farmhouse in the Welsh countryside that offers tourists the chance to experience Welsh rural life. Guests may unwind and enjoy the stunning sight of the rolling hills while sitting in front of a roaring fireplace and reclining on comfortable chairs.
The Cotswold Farm, a 16th-century farmhouse in the heart of the Cotswolds, offers tourists a glimpse into the past with its historic structure and traditional furnishings. The Hayloft is a refurbished barn in Devon that gives tourists a modern alternative to the conventional farmhouse stay. It is surrounded by magnificent gardens and serves as a great home base for touring the neighboring towns and sites of interest. Guests can enjoy all of the comforts of home, such as sleek and contemporary furnishings, a fully equipped kitchen, and a private garden, while also taking in the rustic beauty of the surrounding countryside.
Whitmuir Estate in the Scottish Borders is an eco-friendly farmhouse excellent for travelers searching for a responsible and ecologically concerned place to stay. The farm grows its organic food and provides farm-to-table meals that tourists may enjoy while admiring the spectacular views.
Treworgey Farmhouse is a charming farmhouse in Cornwall that offers guests incredible views of both the ocean and the surrounding scenery. Guests can relax and unwind in this beautiful setting owing to the lavish furnishings, private garden, and hot tub.
These are just a few of the many beautiful farmhouses available for rent around the United Kingdom. If you stay in a farmhouse on your trip to the United Kingdom, it will undoubtedly be one of the most unforgettable experiences of your life. This is true regardless of your preferences or trip budget.
A Journey Through the UK's Most Stunning Farmhouses
A tour of some of the best farmhouses in the UK is an unforgettable experience. The following are some of the most beautiful agricultural buildings to visit: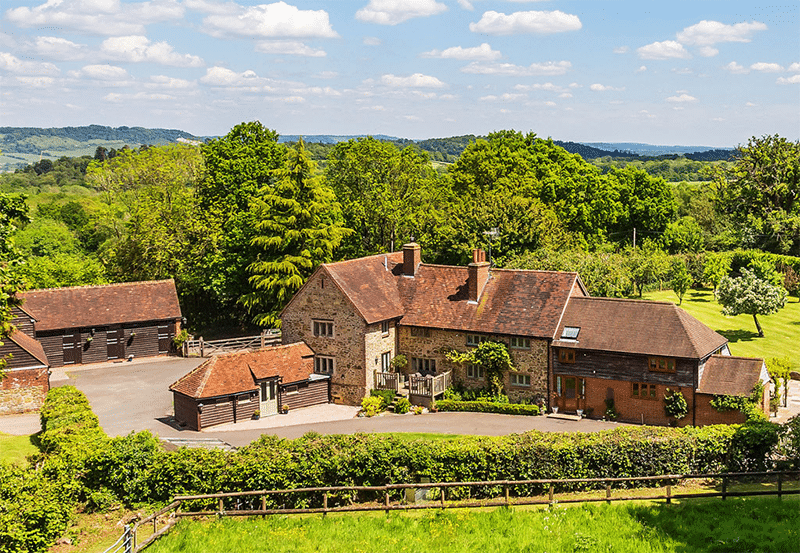 Orchard House is a lovely farmhouse in Kent surrounded by 12 acres of orchards, meadows, and woodland. It is in the heart of the Kent countryside. In the wonderfully furnished interiors of this property, original timbers and antique furnishings combine with modern luxuries such as underfloor heating and a chef's kitchen. The interiors are the embodiment of a perfect blend of contemporary and vintage. Outside, the orchards are great for lengthy walks, and the expansive terrace is ideal for dining while soaking in the fresh air.
The Scottish Highlands are home to Inverlochy Castle. It was built in the 13th century as a fort, but it has since been refurbished and turned into a magnificent farmhouse. Four-poster mattresses, antique furnishings, and beautifully landscaped gardens are among the amenities. The adjacent Scottish Highlands are stunning and provide a range of outdoor activities, including hiking.
The Dairy in Cornwall is a beautifully renovated 19th-century dairy that offers the right blend of old-world appeal and modern magnificence. The interiors are light and airy, with vaulted ceilings, original brickwork, and custom-made furnishings. After a day of visiting the region's coastline, visitors will find the outdoor space, which includes a private garden with a hot tub and a BBQ, to be the perfect place to rest and relax.
This historic rural estate in Yorkshire has a variety of beautiful farmhouses that are available for rent. Utopia Home is one of them, a lovely Georgian manor home with original characteristics, including lofty ceilings, exquisite fireplaces, and antique furnishings. The manor home and grounds are surrounded by stunning gardens and rural landscapes, giving enough opportunities for outdoor sports.
This lovely Georgian home in Suffolk has been completely renovated and has antique furniture, artwork, and other historical aspects. The Old Rectory is located in Suffolk. The house is nestled in a beautiful garden and is just a short distance from the Suffolk coast, making it an ideal home base from which to explore the surrounding area.
From the majesty and elegance of Inverlochy Castle to the old-world appeal of Orchard House, each of these stunning farmhouses offers a one-of-a-kind and unforgettable experience. These stunning farmhouses in the United Kingdom provide everything you could need to make your holiday a once-in-a-lifetime experience, whether you want to relax in the countryside or go on an exciting adventure in the great outdoors.
Finding Peace and Tranquility in UK Farmhouses
One of the main reasons people search for locations to stay in rural areas in the UK is to obtain some much-needed rest. Farm stays provide a one-of-a-kind opportunity to disconnect from contemporary technology, take things slowly, and enjoy a simple life. Here are some ideas for making the most of your stay at the farmhouse and seeking peace: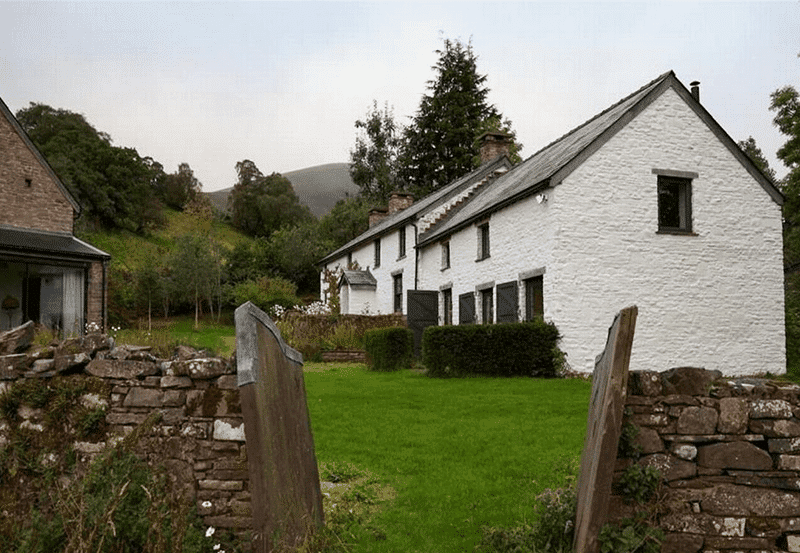 Experience the great outdoors – many farmhouses are in the countryside, surrounded by stunning landscapes and natural elements. Take advantage of this by going on an adventure in the great outdoors, such as hiking, biking, or just walking through the fields. Taking in the sights and sounds of the natural world around you may be highly relaxing and aid in organizing your thoughts.
Many best farmhouses in the UK offer farm-to-table dining, where visitors may enjoy meals made using products harvested from the local countryside. Appreciating each food item and taking the time to taste each may provide a thoughtful experience. This may add to a general calm and relaxation during your stay.
Unplug from modern technologies. Even though many rural houses nowadays have contemporary conveniences such as Wi-Fi and cable TV, it may be helpful to disengage from technology to the maximum degree possible. Put your phone away, turn off the television, and allow yourself to entirely detach so that you may be fully present in the here and now.
Maintain a vigilant mindset. Maintaining a thoughtful mindset may help locate moments of peace throughout your stay at the farmhouse. This might include exercises like yoga or meditation, or it could be as easy as taking a few long, calm breaths to help clear your mind and reduce stress.
Embrace the simple needs – One of the most appealing aspects of living at a farmhouse is the absence of frills. Accept this reality by slowing down, whether by reading a book in front of the fireplace or just drinking tea on the front porch. Allow yourself to relax and enjoy the tranquillity of the surroundings.
If you follow these instructions, you can enjoy the peace that is staying at a farmhouse in the United Kingdom offers. A stay at a farmhouse may be a highly therapeutic experience, allowing visitors to return home feeling recharged and revitalized, whether searching for a romantic break or an adventure on their own.
Conclusion
In conclusion, those seeking a taste of country life and peace will discover that living in a best farmhouses in the UK is a one-of-a-kind and unique experience. Several farmhouse stays are available to suit a wide range of interests and pricing ranges, from the old-world charm of historic houses to the modern amenities of newly renovated cottages. These farmhouses provide a respite from the frantic pace of modern life, allowing guests to unwind, disconnect from technology, and completely immerse themselves in the natural grandeur of the surrounding countryside.
We discovered the stunning beauty and unique charm these homes offer by seeing some of the most outstanding farmhouses in the United Kingdom. From the grand majesty of Inverlochy Castle to the down-to-earth charm of Orchard House, each farmhouse has distinct traits that make it an excellent choice for a stay in the United Kingdom.
A stay at a best farmhouses in the UK is an excellent way to find peace and calm in today's hurried world since it allows visitors to indulge in activities like mindfulness, exploring the great outdoors, and indulging in farm-to-table food. So, whether you're searching for a romantic getaway, a family vacation, or a solo adventure, consider arranging a stay in a farmhouse in the United Kingdom for your next trip, and you'll be able to enjoy the magnificence and charm of rural life.