A home is where family members live together with love and peace. It's not just a shelter. It's a place filled with many memories. It's where you grow up and spend the rest of your life. A home is where we express our style and preferences through home décor, furniture, and other elements. There are different types of home decor styles that we should incorporate in our homes so that they look more manageable and elegant. A home is where we nurture relationships, celebrate milestones, and create memories. A home can be a mansion, a small apartment, or a cozy cottage.
House will only feel like home when people living in it manage it properly with love. A home is more than just a physical space; it reflects our lives. It is a place where we feel comfortable, safe, and connected. With many home décor styles available, it can be overwhelming to navigate through various options. Let us explore some different home décor styles and how we can incorporate them.
Traditional Style
Traditional home décor is classic. It includes rich colors, luxurious fabric, and ornate furniture. This type of home décor draws inspiration from the past. Traditional style brings warmth, comfort, and familiarity, evoking a sense of nostalgia and charm. To incorporate classic style into your home, opt the furniture such as tufted sofas and chairs, and use warm colors. You can also add Persian rugs and oil paintings to enhance the ambiance.
Bohemian Style
Bohemian home décor is an accessible bold aesthetic that mixes different cultures and artistic expressions into an eclectic style. It embraces various cultures and textures and creates a vibrant creative atmosphere. If you want to incorporate bohemian style into your home, use deep, bold, and earthy hues. You can also add rugs and any other accessories. Create a unique and vintage look, such as a Moroccan pouf or a rattan chair.
Scandinavian Style
This type of home décor includes simplicity, functionality, and natural elements. It focuses on creating a cozy and inviting atmosphere with a touch of minimalism. To incorporate Scandinavian style into your home, use light and neutral colors such as white, grey, or light blue. Choose furniture made with natural materials and add cozy textiles such as knit blankets or sheepskin rugs for warmth.
Modern Style
Modern home décor includes a monochromatic color palette, clean lines, natural materials, and light. In contemporary home décor, the emphasis is on functionality and simplicity. To incorporate modern home décor, choose furniture with clean lines, such as streamlined sofas and chairs, and use a natural palette. You can also use abstract paintings and sculptures.
Farmhouse Style
Farmhouse home decor is inspired by rural and rustic aesthetics, creating a cozy and inviting atmosphere. It includes distressed wood, vintage furniture, and warm color palettes. Farmhouse style is about creating a comfortable and lived-in look. To incorporate farmhouse style into your home:
Use friendly and earthy color palettes like whites, grays, and browns.
Choose furniture with distressed wood finishes, such as a farmhouse dining table or a barn door headboard.
Add cozy and rustic elements like plaid blankets, burlap accents, and vintage decor to complete the farmhouse look.
Industrial Style
The industrial home decor style is a unique and edgy design trend recently gained popularity. It draws inspiration from industrial spaces like factories and warehouses and often features raw and unfinished materials, valuable elements, and a minimalist approach to design. If you want to incorporate industrial style into your home:
Use a color palette with grays, blacks, and browns.
Choose furniture with metal frames, such as a coffee table or a steel bookshelf.
Expose brick or concrete walls, and add industrial lighting fixtures, such as pendant lights with metal shades, to create an authentic industrial vibe.
Eclectic Style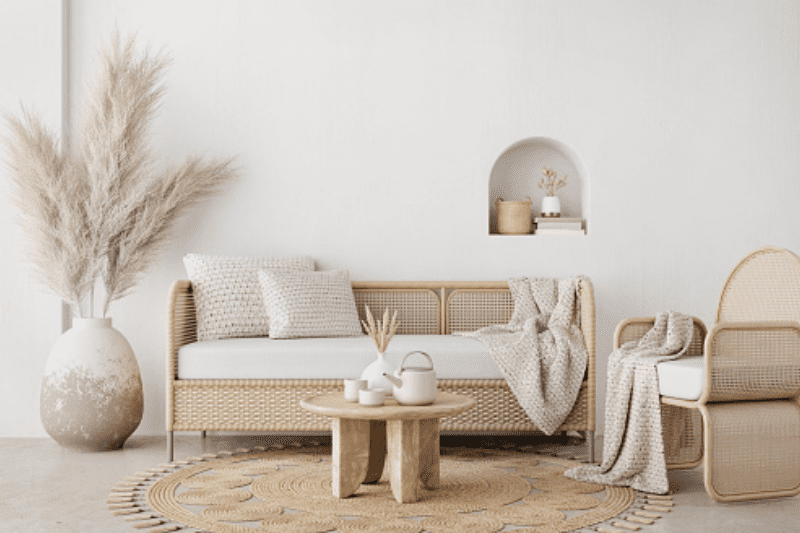 The eclectic home decor style mixes and matches different styles, colors, and patterns to create a unique and personalized look. It's an excellent option for those who love to showcase their creativity and individuality in their home decor. Eclectic style often incorporates vintage, bohemian, and global elements, creating an exciting and visually dynamic space. To incorporate eclectic style into your home, mix different types of furniture, and combine contrasting patterns and colors, including unique accessories from other cultures or eras. Eclectic home decor style can work well in any room, allowing for high customization and personal expression.
Conclusion
Understanding the different types of home decor styles and how to incorporate them can help you create a personalized and visually appealing space that reflects your unique taste and personality. Whether you prefer the timeless elegance of traditional style, the sleek and modern look, cozy and rustic vibes of farmhouse style, the eclectic and adventurous feel of bohemian style, or the edgy and industrial aesthetic of industrial style, there are endless possibilities to explore. Whether you choose a single decor style or blend different types, the key is creating a space that makes you feel comfortable and happy. The home decor reflects your style and can significantly impact the ambiance and mood of your home.
For more informative blogs, then click here.