Video games are enjoyed by millions of people every day all around the globe. Popular among players of all ages, gaming zones have evolved due to the proliferation of cutting-edge technology and the introduction of fully immersive experiences. A plethora of arcades and other gaming centres in the United States provide anything from vintage arcade games to state-of-the-art virtual reality (VR) simulations. To that end, this article will examine the ten best gaming zones in the US and describe what makes each one special.
#1: The Game Grid Arcade – Salt Lake City, Utah
The Game Grid Arcade, found in Salt Lake City, Utah, is a paradise for anyone who likes playing classic video games. This gaming area has a vast assortment of classic arcade games such as Pac-Man, Donkey Kong, and Street Fighter, among many more. For gamers looking for nostalgia, The Game Grid Arcade provides a journey down memory lane with its well-maintained equipment and atmosphere that evokes a sense of yesteryear.
#2: Dave & Buster's – Dallas, Texas
In the arcades and game rooms world, Dave & Buster's is a name that needs no introduction. This brand, founded in Dallas, draws in both severe gamers and others who are just looking for a good time because of the mix of delicious food choices, sports bars, and arcade games. At Dave & Buster's, customers can access various gaming choices, ranging from competitive multiplayer racing games to immersive, interactive virtual reality experiences.
#3: Round1 – Los Angeles, California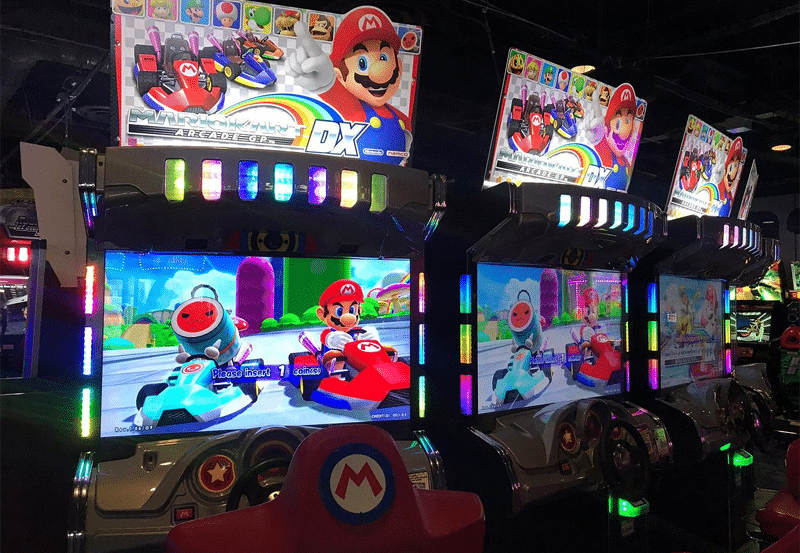 The competitive gaming mecca that is Round1 can be found in the heart of Los Angeles, California. This massive gaming area offers various well-known games for players, including DDR (Dance Dance Revolution), air hockey, and even bowling. An immersive gaming experience is available at Round 1 for casual gamers and ambitious esports fans thanks to the venue's energising environment and state-of-the-art amenities.
#4: The Void – Orlando, Florida
The Void in Orlando, Florida, is a gaming zone that anybody looking for a virtual reality experience that is unmatched in its scope should not be missed. The Void provides mind-bending experiences by combining cutting-edge VR technology with interactive storytelling. These experiences include the ability to explore Star Wars realms and take on the role of a Ghostbuster. The Void is a clever piece of virtual reality entertainment because of its realistic visuals and the tactile sensation it provides players.
#5: Barcade – Brooklyn, New York
Barcade in Brooklyn, New York, offers a one-of-a-kind gaming experience for adults thanks to its innovative combination of the ideas of a bar and an arcade. Barcade is a bar that provides its customers with a nostalgic environment in which they can relax, socialise and indulge in gaming nostalgia by offering a wide variety of classic arcade games and a broad choice of different craft beers on tap.
#6: Emporium Arcade Bar – Chicago, Illinois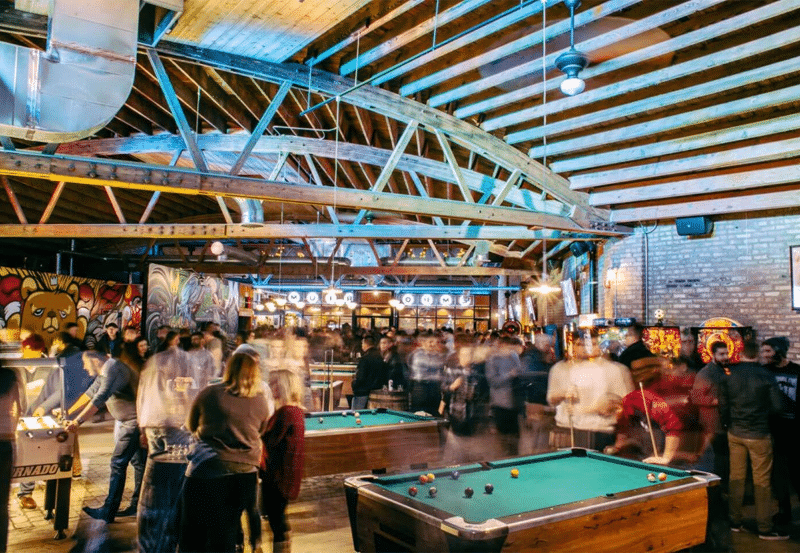 Emporium Arcade Bar is a popular destination in Chicago, Illinois, that combines the excitement of traditional arcade games with the atmosphere of a hip bar. Customers may enjoy speciality beverages, local beers, live music performances, and the large selection of available classic video games. Because it finds the ideal mix between entertainment and socialising, Emporium Arcade Bar is a popular destination for patrons interested in gaming and bar culture.
#7: iPlay America – Freehold, New Jersey
The enormous indoor amusement park, iPlay America, can be found in Freehold, New Jersey. It caters to gamers of all ages. iPlay America is a one-stop destination that provides a whole day's worth of exhilarating entertainment options thanks to its extensive selection of activities, which include laser tag, go-kart racing, and arcade games. In addition to enjoying the park's other attractions, such as rides and mini-golf, families and friends may form bonds via shared gaming experiences.
#8: Ground Kontrol – Portland, Oregon
Arcade gaming enthusiasts will find Ground Kontrol, located in Portland, Oregon, a paradise. This gaming zone maintains the traditional arcade cabinet and pinball machine gameplay by housing many vintage games. Many gamers from the Pacific Northwest congregate at Ground Kontrol due to the establishment's vibrant environment and full bar, which serves a variety of speciality brews.
#9: GameWorks – Las Vegas, Nevada
GameWorks is a multi-purpose entertainment complex that can be found in the middle of Las Vegas, Nevada. It caters not just to gamers but also to visitors. This gaming zone provides various entertainment options, including traditional arcade games, virtual reality (VR) experiences, and eSports competitions. Visitors interested in immersing themselves in the gaming world will find that GameWorks delivers an experience that is both memorable and abundant in terms of the variety of gaming alternatives available to them.
#10: Game On! – Austin, Texas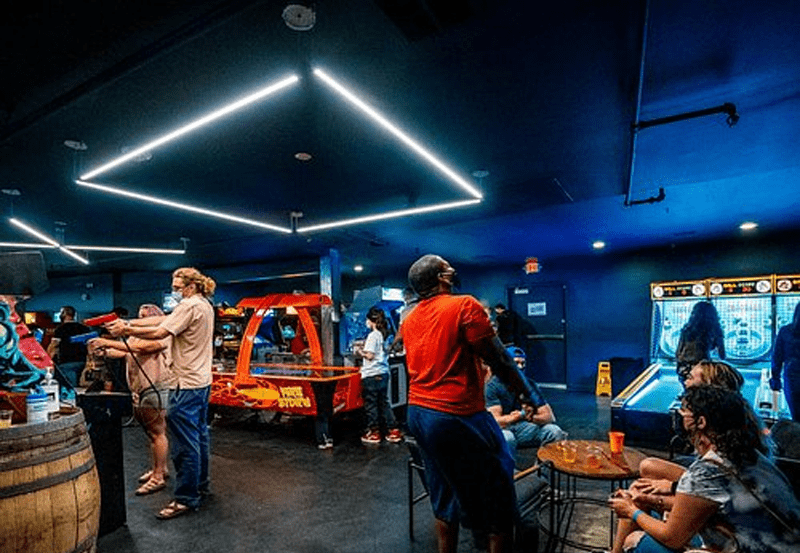 Our list of the best gaming zones in the US is finished with Game On! in Austin, Texas. This area is well known for its active gaming community, and it has an excellent array of gaming alternatives, including console gaming settings, tabletop gaming options, and even arcade games. The purpose of Game On! is to provide a meeting place for gamers by providing an atmosphere that is kind to and accommodating to gaming lovers of all stripes.
Conclusion
Gaming zones in the US have evolved from traditional arcades to immersive entertainment destinations, catering to the diverse interests of gamers. There's a gaming area for everyone, whether they're into classics, virtual reality, or just hanging out with friends while enjoying local brews. The diversity and excitement that awaits gamers around the nation are on full display in the top 10 gaming zones highlighted in this article. Get your hands on some controllers and a VR headset, and go to one of these fantastic gaming zones in the US.