Logo designing is a graphical representation. When people notice an attractive image from any enterprise that provides what they need or want, it becomes embedded in their memory. A logo needs to be better designed to have a positive effect on the company it is speaking for. In the United States, numerous logo-designing companies excel in crafting impactful and memorable brand identities. These firms combine artistic vision, strategic thinking, and design expertise to create logos that encapsulate the essence of a brand and leave a lasting impression on consumers. Let us explore the top 10 logo designing companies in the US.
Pentagram is one of the world's most influential logo design firms, founded in 1972. Pentagram's team consists of highly skilled designers, each of whom is a partner in the firm. It has New York, San Francisco, Berlin, and Austin offices. This unique structure allows collaboration and expertise across various design disciplines, including logo design, branding, typography, architecture, and more. The company has a rich portfolio of iconic logo designs for globally recognized brands and organizations. Hence, Pentagram is known for its approach to logo design, which emphasizes simplicity, versatility, and timeless aesthetics.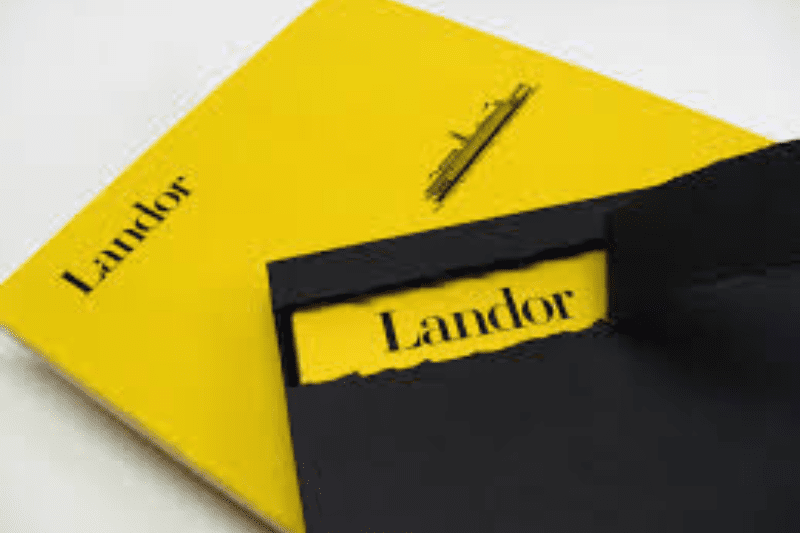 It is a global branding and design consultancy specializing in creating strategic brand identities, including logo design. Landor has major offices in Tokyo, San Francisco, Shangai, and New York. The designers, strategists, and researchers collaborate closely with clients to understand their business objectives, target audience, and competitive landscape. It often focuses on simplicity, timeless aesthetics, and strong storytelling elements. Landor offers a wide range of branding services, including brand strategy, brand architecture, packaging design, digital branding, and brand experience design.
It is a prominent graphic design firm known for its expertise in logo design and brand identity. Chermayeff & Geismar & Havivwas were founded in 1957 and is based in New York City. It has an impressive portfolio of iconic and enduring logos that have become synonymous with well-known brands and organizations. They believe in creating logos and brand identities that are memorable, versatile, and reflect the essence of the organization they represent.
Want to + add your website in this list?
Contact us on blogkinguk@gmail.com
Wolff Olins is a global brand consultancy and design firm specializing in creating and transforming brands, and it was founded in 1965. Wolff Olins has a reputation for its innovative and strategic approach to brand design. The firm has worked with numerous high-profile clients, both corporate and non-profit, across industries such as technology, finance, entertainment, and government. Hence, it played a key role in developing the branding and visual identity for the London 2012 Olympic and Paralympic Games. The firm designed the iconic Olympic logo and overall visual identity.
It has been a creative brand consultancy since 1979. Meta design goes beyond the specifics of any single design project and focuses on defining the structure, components, and interactions that guide the creation of designs. The designers can create systems that enable efficient and consistent design execution while allowing flexibility and adaptation. Hence, Meta design helps establish a shared understanding and language among designers, ensuring the coherence and effectiveness of the overall design system.
Siegel+Gale is a logo-designing company in the US. It offers various services such as brand strategy, brand identity, customer experience design, and employee engagement. They work with clients across industries, including technology, finance, healthcare, and more. Its approach is simplicity. They believe simplifying complex brand challenges can lead to greater clarity, differentiation, and effectiveness. Hence, it recognizes the importance of employee engagement in delivering a strong brand experience.
It was founded in 1943. Lippincott has a rich history and a strong reputation in this field. This firm offers various services, including brand strategy, identity, customer experience design, innovation, and organizational alignment. At the same time, Lippincott works with clients across various industries, including consumer goods, healthcare, financial services, technology, etc. They develop visual identities that represent the essence of a brand and create a cohesive and distinctive brand image. Hence, it is a renowned brand strategy and design consultancy that assists businesses in developing and transforming their brands.
Want to + add your website in this list?
Contact us on blogkinguk@gmail.com
It was founded in 1974. Interbrand is one of the top 10 logo designing companies in the US. It offers a range of services aimed at helping businesses maximize the value of their brands. They work closely with clients to develop brand strategies that align with their business goals and target market. Interbrand also works on brand communication strategies, ensuring consistency and coherence across channels and platforms. Hence, it is a globally recognized brand consultancy providing strategic guidance and expertise in brand strategy, valuation, and experience.
It is a creative agency that helps businesses create and transform their brands for the future. The company was founded in 1999. FutureBrand aims to uncover unique insights about a brand's target audience, market dynamics, and future trends to develop strategic brand solutions that drive growth and differentiation. They work to optimize and enhance these experiences, whether it's through physical spaces, digital interfaces, or interactions with products and services. Hence, FutureBrand assists clients in developing impactful brand strategies and crafting compelling brand identities that drive growth and foster long-term success.
It is known for its innovative and bold approach to brand design. They have worked with numerous high-profile clients, including Coca-Cola, Amazon, Samsung, and McDonald's. Their logo emphasizes simplicity, clarity, and a strong visual impact, aiming to create memorable brand experiences. Hence, they have received numerous awards for their work, including recognition from prestigious organizations such as the Cannes Lions International Festival of Creativity, D&AD, and the Clio Awards. They collaborate closely with their clients to understand their goals and values and then develop creative solutions that help strengthen and differentiate their brands in the marketplace.
Want to + add your website in this list?
Contact us on blogkinguk@gmail.com
Conclusion
Hence, the talent and innovation showcased by the top 10 logo designing companies in the US. These firms have earned their esteemed reputations through their exceptional work, commitment to creativity, and ability to create enduring brand identities. From the iconic logos crafted by Chermayeff & Geismar & Haviv to the strategic branding approach of Landor, each of these companies brings a unique perspective and skill set to the table. Their expertise in logo design, combined with their comprehensive understanding of brand strategy, has enabled them to create memorable, versatile, and impactful logos for diverse clients.