Angelina Jolie was 'overwhelmed' after visiting Pakistan, meeting with sufferers, and seeing flood-devastated areas.
As a frequent goodwill ambassador for the United Nations High Commission for Refugees, Ms. Jolie visited the severely impacted southern Sindh region, where she spoke with displaced individuals living in camps.
Thursday, the actor and activist said, "I've never seen anything like this."
Following her meeting, she described feeling "overwhelmed" and voiced fear that many people may perish if further relief does not come.
Ms. Jolie said, "I have been chatting with folks and thought that if sufficient relief does not arrive, they will not survive the next few weeks."
The devastating flooding has submerged one-third of Pakistan, and experts fear the floods will not recede for at least six months. An international committee of climate experts has connected the calamity, which has uprooted over seven million people and affected over thirty-three million, to the global problem.
Wednesday, Ms. Jolie landed at an airport in Karachi, the capital of Sindh province in southern Pakistan, where floods have killed 692 people in the previous three months.
She traveled to Dadu, where waterborne infections have caused over 300 fatalities since July and talked with the locals about their needs.
Later, during a civil and military authorities meeting in Islamabad's capital, she said, "I am entirely with you in urging the international community to do more… I believe this should serve as a wake-up message to the globe about our current state." "Climate change is not just real and not only imminent; it has already been here."
The climate catastrophe has caused catastrophic floods nationwide, resulting in 1,559 deaths, including 551 children and 318 women.
According to the International Rescue Committee, a famous international assistance organization, Ms. Jolie is visiting Pakistan to assist communities impacted by the catastrophic floods.
"Ms. Jolie is traveling to see and obtain a better knowledge of the situation, as well as to hear directly from those impacted about their needs and future efforts to avoid such suffering," the IRC said in a statement.
"Ms. Jolie, who previously visited flood victims in Pakistan in 2010 and earthquake victims in 2005, will tour the IRC's disaster response operations and local organizations aiding displaced people, including Afghan refugees."
The visit follows Pakistan's prime minister Shahbaz Sharif's trip to New York for the 77th session of the United Nations General Assembly, where he will discuss the devastation wrought by climate change-induced floods in the developing nation.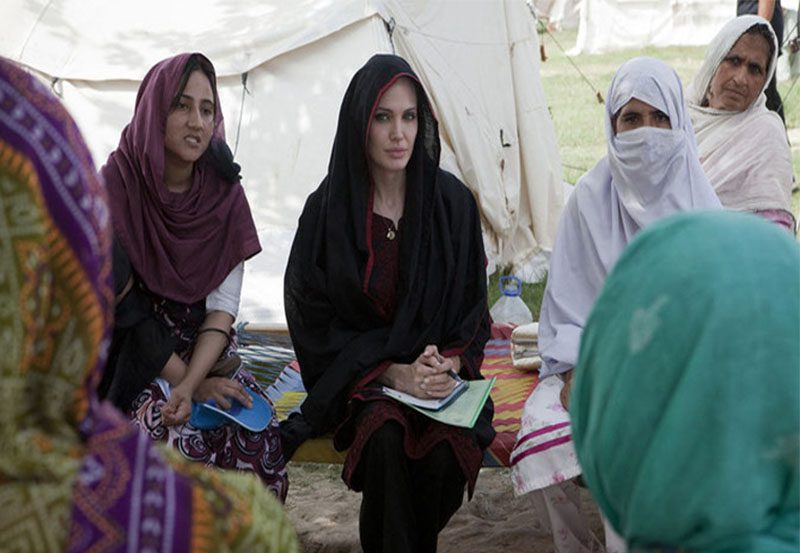 The floods in Pakistan have caused more than $30 billion (£26.5 billion) in damages, which experts blame on the artificial climate disaster.
Pakistan, which has contributed less than one percent of the world's carbon emissions, is one of the most susceptible nations to the effects of the climate disaster and has requested that wealthy nations pay climate reparations.
Meanwhile, an epidemic of waterborne and viral illnesses, including malaria, dengue fever, diarrhea, and skin infections, has swamped the system throughout provinces as several regions remain inundated. According to the United Nations, the public health crisis might be the country's "second calamity."