Welcome to the comprehensive guide to the top 10 business cards designing companies in the UK, where perfect design meets unmatched expertise. Beautiful business cards stand out in today's competitive business world. Ready to boost your brand's image? Stop looking! This article will reveal the top business card designers with the talent, creativity, and experience to turn your ideas into reality. Join us as we explore remarkable design possibilities and learn how these companies can make your business cards conversation starters.
PsPrint is a reputable online printing company that offers various printing services, including the production of business cards. Their design service team comprises highly skilled designers with extensive industry experience, assuring high-quality outcomes. PsPrint, a subsidiary of Deluxe Corp., employs cutting-edge web technologies and state-of-the-art print production facilities on both hemispheres. This strategic approach allows them to reduce delivery time and costs, providing customers with efficient and cost-effective solutions.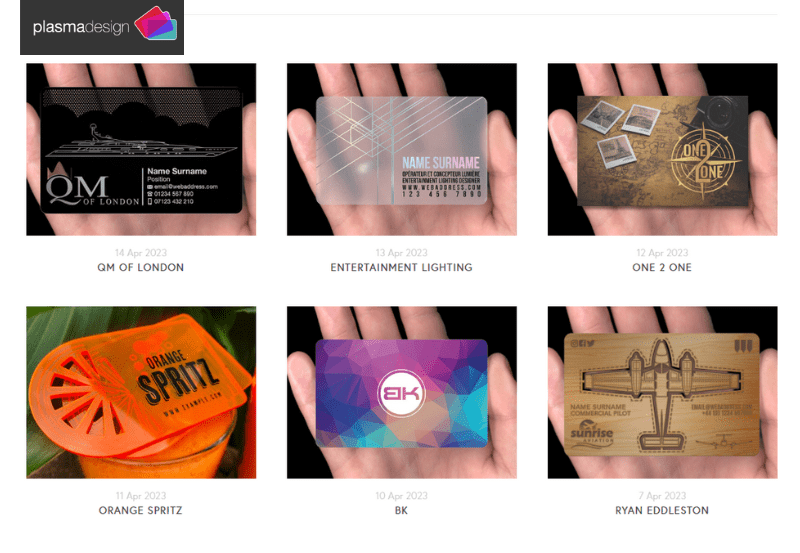 PlasmaDesign is a prestigious UK company founded in 2007. Their unique business cards are well-known. Chemically milled stainless steel, laser-cut wood, translucent biodegradable plastic, and letterpress distinguish them. They offer free design services without templates. They believe in collaborating and creating business card artwork. Their skilled designers work hard to make the end product as distinctive as you and your organization. PlasmaDesign combines cutting-edge design with ancient manufacturing methods to preserve crafts in our increasingly mechanized and impersonal environment.
Instant Print, a UK-based online printer, specializes in business card printing and design. To produce bespoke business cards, they provide a remarkable assortment of unmatched materials, unique sizes, attractive finishes, and an extensive range of free themes. Choose their 450gsm silk quality business cards with matt lamination or square-shaped choices for a memorable and popular option. Loyalty cards, economy cards, recyclable cards, kraft business cards, and gold dust cards are all available from Instantprint. Spot UV, foil, rounded corners, anti-bac laminated cards, and eco-laminated business cards are all available to fit your needs.
Want to + add your website in this list?
Contact us on blogkinguk@gmail.com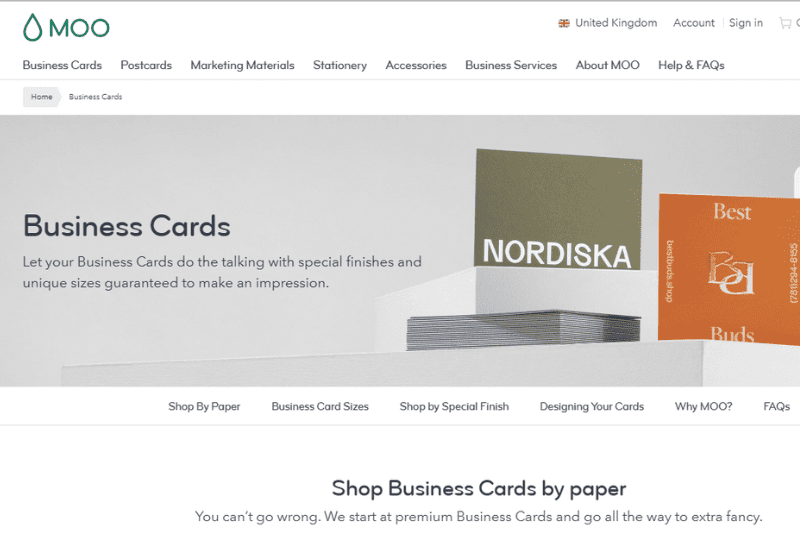 MOO, a famous brand, lets you print business cards online using your design or one of their templates on various paper qualities, from premium to extra-fancy. Semi-letterpress printing, gold foil, spot gloss accents, and raised spot gloss accents are among their unique and stunning card styles. MOO offers small business cards as well as standard ones. MOO's other paper items include stickers, flyers, postcards, letterhead, and notebooks.
Vistaprint is a company that specializes in assisting small business proprietors with creating professional marketing materials and custom designs. Vistaprint enables you to develop a visual identity that resonates with your brand by providing a diverse selection of products, including business cards and promotional marketing items. Since 1995, Vistaprint has been committed to simplifying and clarifying the design process for its customers. They provide malleable designs that can be applied to various printed materials, allowing you to maintain consistency and present a unified and professional marketing presence.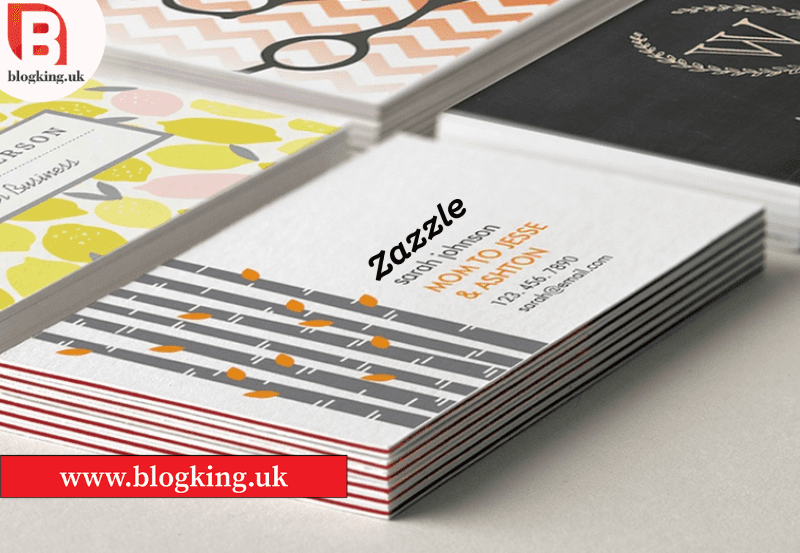 Zazzle is an innovative on-demand marketplace that connects customers with talented artists, enabling the creation of remarkable designs on premium products from around the globe. Zazzle offers a variety of products in the United Kingdom, including business cards, invitations, apparel, accessories, and gifts. You can explore a vast selection of Zazzle templates or liberate your creativity using their user-friendly customization tools to create unique designs. In addition, Zazzle offers convenient features such as instant downloads and design services, allowing you to create a perfect and personalized appearance for your business or personal endeavours.
GotPrint is a reputable company specializing in custom online business card printing and offering an intuitive web-based card-designing tool. They provide distinctive card shapes, such as leaf-shaped cards, which lend an original touch to your designs. Notably, GotPrint has the lowest starting price compared to other services, making it a different option. GotPrint offers extensive business card options, allowing you to design a card that meets your needs. Their dedication to high-quality offset and digital printing in full colour ensures that your business cards will be memorable representations of your company or personal brand.
Want to + add your website in this list?
Contact us on blogkinguk@gmail.com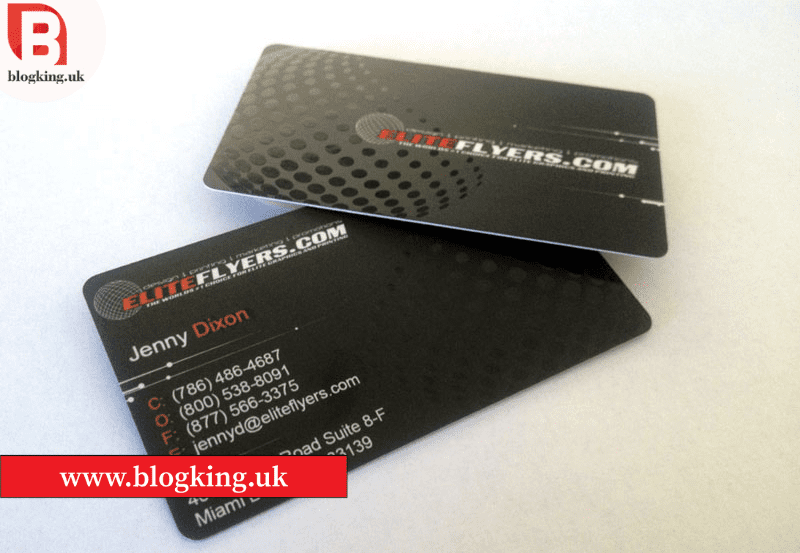 Elite Flyers' wide selection of business card materials and textures ensures high-quality printing. Their advanced online card creation tools allow consumers to create stunning designs. Elite Flyers' branding services are renowned. You may show off a strong business identity with their trendy products. For mass business card design, Elite Flyers is great. They create excellent, personalized business cards that match your needs. They serve many industries, from fashion to construction, with ideal outcomes.
Staples is a company that provides a range of business card design options, catering to customers who require same-day pickup. Staples offers convenient services for those needing a quick solution and a primary card to distribute immediately. Ordering business cards at Staples can be done in three ways:
Uploading your file
Creating one from scratch
Browsing their extensive collection of over 4,000 ready-made designs
Their main business cards page showcases various quality levels, from traditional and more cost-effective options to executive cards with a sophisticated linen texture.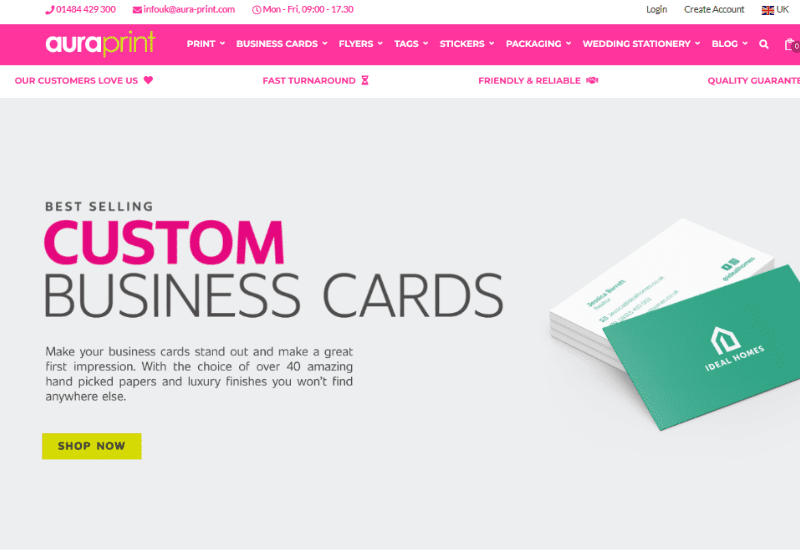 Aura Print, a UK printing service, is noted for its quality, friendliness, and reliability. Business cards, banners, and brochures are printed on various high-quality papers, styles, and colours. Aura Print guarantees 100% client satisfaction. They immediately and without question resolve any difficulties. Aura Print brings your business card ideas to life with over 300 options. They provide over 40 carefully selected paper and finishing options to make your cards stand out. Business card printing is essential to Aura Print because they share in your success when your personalized business cards leave a lasting impact.
Want to + add your website in this list?
Contact us on blogkinguk@gmail.com
Conclusion
The top 10 business cards designing companies in the UK offer exceptional services for creating impactful and visually appealing business cards. With their expertise in design and printing, these companies have proven their ability to enhance brand identity and leave a lasting impression on potential clients. Whether you are a startup, small business, or established corporation, partnering with one of these reputable firms will ensure that your business cards stand out from the competition. Take action today and choose a trusted business card designing company to elevate your brand and make a memorable statement in the business world.