Flyers promote your business, event, or product cheaply and effectively. With so many flyer designing companies in the UK, knowing where to start can be complicated. In this blog post, we will introduce you to the top 10 flyer designing companies in the UK. These companies offer various services, from custom design to printing and delivery, and have a reputation for quality and reliability. Whether you're looking for a simple flyer or a more complex design, these companies have the expertise and experience to help you create the perfect promotional material for your needs.
Mr. Flyer is a leading company based in the UK, specializing in effective leaflet distribution campaigns. Since 2011, they have partnered with their clients to significantly enhance their leaflet distribution efforts' results. Their comprehensive package includes a complimentary initial consultation, precise targeting based on demographics, compelling artwork, professional printing services, and reliable distribution handled by the esteemed Royal Mail. With a mission to boost their customers' businesses and bolster their brands through printed marketing, Mr. Flyer offers various services, including award-winning marketing strategies, innovative artwork, nationwide leaflet distribution, and direct mail services. All these operations are conducted within their expansive 15,000 sq. ft. facilities in West Yorkshire.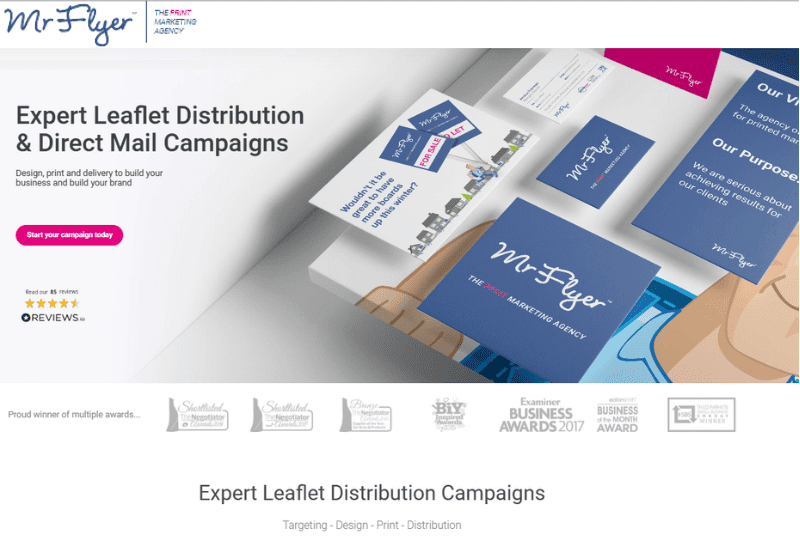 Flyerzone is a reputable company specializing in high-quality flyers, leaflets, business card designs, and printing options. They are known for their competitive prices and offer a range of cost-effective printing solutions. With Flyerzone, you can upload your file or choose from their online editable design templates, providing flexibility in customization. One standout feature is their free delivery service, which applies to all orders. With Flyerzone, you can create professional marketing materials without breaking the bank.
Vistaprint is the foremost online printing service in the United Kingdom, empowering small businesses to market themselves effectively. With a diverse range of products available, including business cards, printed marketing materials, signage, and promotional items, Vistaprint caters to various marketing needs. Additionally, they offer digital marketing services, helping businesses establish a solid online presence. With over 20 years of experience, Vistaprint has assisted countless small business owners, entrepreneurs, and dreamers in creating expertly-designed custom marketing materials. They prioritize sustainability and uphold the highest ethical standards throughout their supply chain.
Want to + add your website in this list?
Contact us on blogkinguk@gmail.com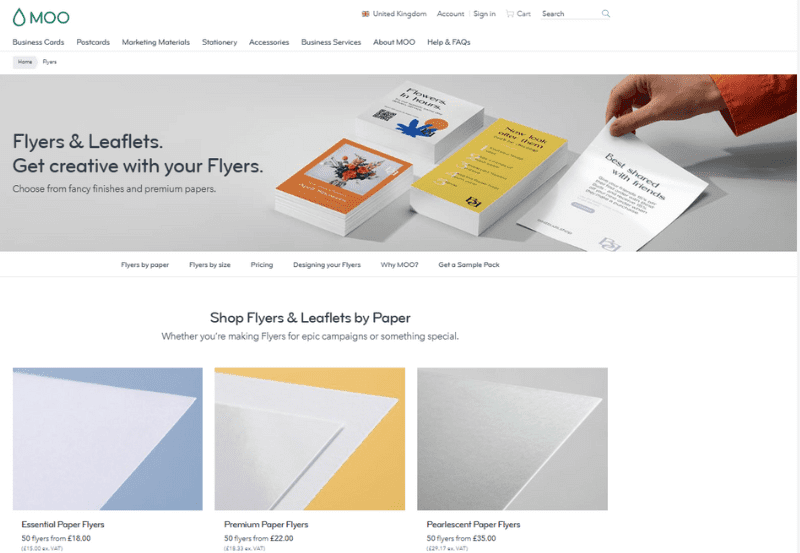 MOO is a dynamic online technology and manufacturing business specializing in designing, manufacturing, and selling premium print products. With a strong belief in the power of great design, MOO strives to make a positive impact on both its customers and the world. They offer various customizable print products and accessories, including business cards, postcards, greeting cards, notecards, journals, planners, letterheads, and water bottles. Unit 12 Thames Gateway Park, Chequers Lane, Thames Ward, Greater London, RM9 6U.K. is the location of MOO's headquarters.
UK printing provider Aura Print is widely acclaimed and reliable. Aura Print, known for its quality, friendliness, and reliability, prints business cards, banners, and brochures. They offer various quality papers, styles, and colors to help consumers create unique and attractive printed documents. Aura Print offers a 100% craft guarantee to guarantee customer satisfaction. Aura Print's headquarters is units 9 & 10 Leeds Rd, Huddersfield, West Yorkshire, HD1 6PA, UK. They can be reached at info@aura-print.com or (UK) 01484 429 300 from 09:00 to 17:30 GMT Monday through Friday.
Solopress is a prominent online printing service based in the UK, specializing in various products to meet printing needs. Their extensive offerings include flyers, leaflets, brochures, roller banners, business cards, business stationery, posters, stickers, labels, and more. Solopress takes pride in providing free next-day delivery within the UK, ensuring quick and efficient customer service. They are also committed to environmental sustainability and offer various eco-friendly printing options. With over 28,000 5-star reviews, Solopress is highly regarded for its affordable prices, exceptional quality, and fast delivery.
Kustom Design Printing Ltd is a privately held company in Doncaster, England. It was established on May 17, 2013, and its registered office is at Unit 8 Network Centre Doncaster Road, Kirk Sandall, Doncaster, England, DN3 1HP. According to Dun & Bradstreet, Kustom Design Printing Ltd operates within the Printing and Related Support Activities industry. They provide various printing services and related support activities to their clients.
Want to + add your website in this list?
Contact us on blogkinguk@gmail.com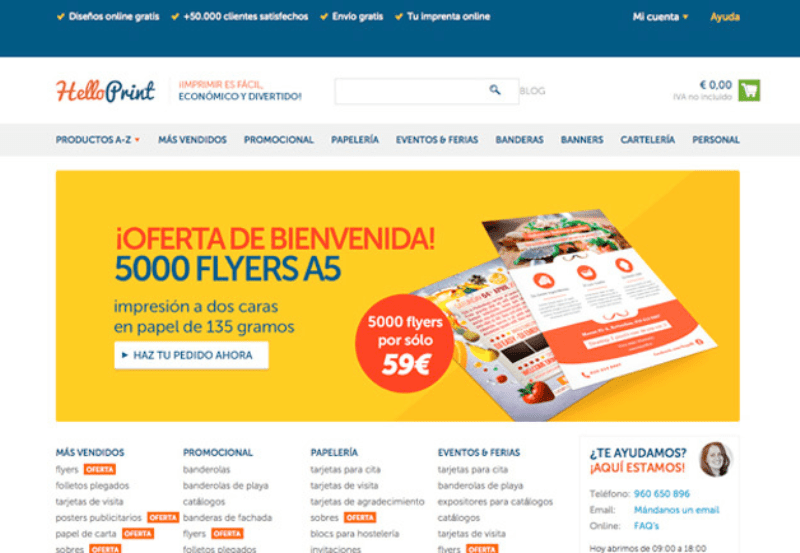 Helloprint is a leading online printing service based in the UK, offering a comprehensive range of products to meet various printing needs. Their extensive product lineup includes flyers, leaflets, posters, roller banners, booklets, business cards, cards and vouchers, stationery and office products, signage and outdoor products, hospitality and event products, stickers and labels, packaging, gifts and giveaways, clothing and textiles, bags, photo products, and cards for various occasions. One notable feature is their free delivery service within the UK.
Mixam is a leading online printing platform specializing in UK flyer and leaflet printing services. Flyers and leaflets are a cost-effective way to promote your business, and Mixam provides the perfect solution. They offer the option to create your design on an unbound, single sheet of paper, allowing you to combine your custom design with premium print options. Mixam stands out for its user-friendly ordering system, competitive prices, exceptional quality, free artwork checking, and outstanding customer service. With a wide range of available sizes and paper types, Mixam ensures you can find the perfect fit for your printing needs.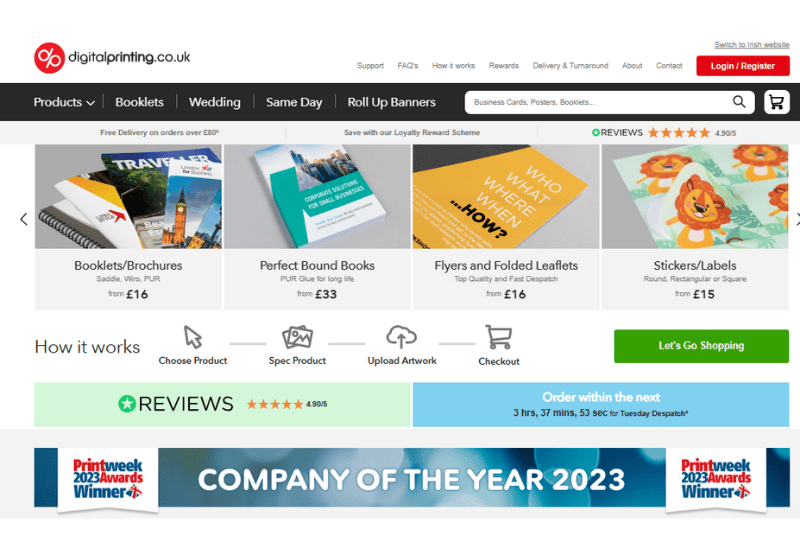 DigitalPrinting.co.uk is a leading online printing service in the UK specializing in top-quality leaflet and flyer printing. They boast an impressive range of paper options, including silk, gloss, and uncoated. DigitalPrinting.co.uk offers recycled silk and recycled uncoated paper choices for those prioritizing eco-friendliness. With DigitalPrinting.co.uk, you can select from various sizes, opt for single-sided or double-sided lamination on weights exceeding 250gsm, and choose between landscape or portrait orientation. They also cater to custom sizes and provide a selection of luxurious papers for those seeking the finest quality. Experience excellence with DigitalPrinting.co.uk for all your printing needs.
Want to + add your website in this list?
Contact us on blogkinguk@gmail.com
Conclusion
When finding the top 10 flyer designing companies in the UK, making an informed decision is crucial. These companies possess the expertise and creativity to deliver outstanding flyer designs that capture attention and drive results. Whether you're a small business owner, an event organizer, or a marketing professional, partnering with one of these reputable companies will ensure your flyers stand out from the crowd. Make the most of the chance to establish a long-term connection with your leading interest group. Take action today and choose one of these exceptional flyer designing companies to elevate your brand and promotional materials.