The United Kingdom has diverse culinary experiences, including a wide selection of halal restaurants. From traditional Middle Eastern and South Asian cuisine to fusion and contemporary dishes, the UK's halal food scene has something for everyone. Based on customer reviews and ratings, this article will explore the top 10 halal restaurants in the UK. Whether you're in the mood for a hearty kebab or a delicate biryani, these restaurants will satisfy your cravings while adhering to halal dietary requirements.
The Great Chase is an acclaimed alcohol-free restaurant in London on St. John Street in Islington. Known for its contemporary cuisine and expertly crafted non-alcoholic cocktails, the restaurant offers a menu that includes premium meat, seasonal game, seafood, and vegetarian dishes thoughtfully prepared by its talented Head Chef. The restaurant has garnered numerous positive reviews on TripAdvisor, praising its exceptional food, sensational non-alcoholic cocktails, exquisite Rare Tea collection, and comfortable and relaxed ambience.
Rump N Ribs Steakhouse, located in Manchester, is a renowned restaurant that focuses on offering dry-aged and halal Aberdeen Angus steaks and grill specials. The restaurant's modern and straightforward cafeteria setting creates a relaxed dining atmosphere. Rump N Ribs takes pride in sourcing beef from renowned AA producers in Scotland, ensuring the highest quality cuts. The beef undergoes a minimum dry-ageing process of 28 days on the bone, enhancing the meat's flavour and tenderness. With their commitment to quality and expertise in steak preparation, Rump N Ribs Steakhouse provides a delightful dining experience for steak enthusiasts.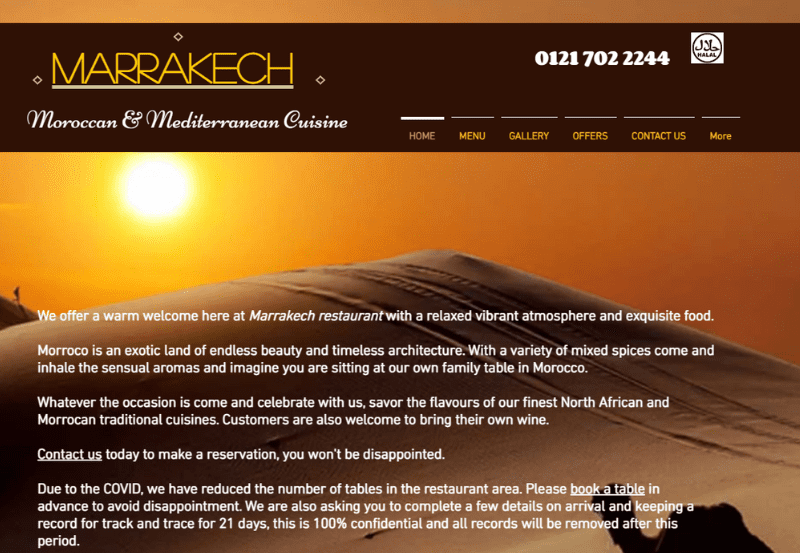 Located on Stratford Road in Birmingham, Marrakech Restaurant offers a welcoming and cosy ambience characterized by a relaxed and vibrant atmosphere. The restaurant has earned a reputation for its outstanding cuisine, receiving numerous positive ratings on TripAdvisor. When guests choose to dine at Marrakech Restaurant, they can expect nothing short of excellent and flavorful food. The menu is crafted to deliver a delightful culinary experience, ensuring that each dish is prepared carefully and precisely. With its warm hospitality, lively setting, and exceptional dining options, Marrakech Restaurant in Birmingham is a go-to destination for those seeking a memorable dining experience.
Want to + add your website in this list?
Contact us on blogkinguk@gmail.com
In the UK, there are multiple restaurants named Saray Turkish Cuisine. For instance, Saray Turkish Grill House is in the heart of Jesmond and is known for its authentic Turkish cuisine prepared and cooked by Turkish chefs. The restaurant received the 'Travelers' Choice award in 2022 and held the top position among restaurants in Newcastle Upon Tyne. Additionally, a Saray Restaurant in Cardiff serves genuine Turkish cuisine. Furthermore, the Saray restaurant in Manchester has received positive reviews on TripAdvisor for its fabulous Turkish cuisine.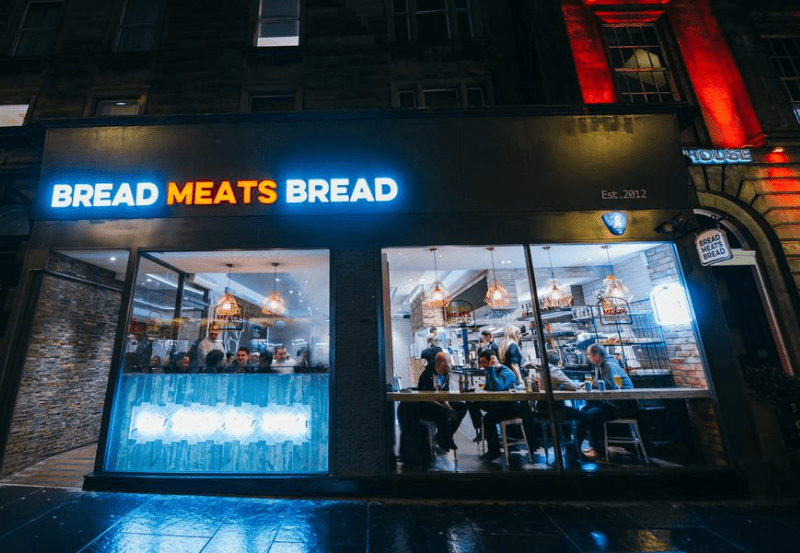 Meats and Bread Bread is a business that is run by a family and places a strong emphasis on the relationship that exists between flavour and freshness. The restaurant, which has sites around the UK, including Edinburgh and Glasgow, is known for providing novel takes on well-known dishes at each dining establishment. It has received widespread acclaim, including being named one of Europe's Top 20 Burgers and taking home the prestigious "Best Burger in Scotland" award on two occasions.
Rojava Restaurant is a Mediterranean dining establishment situated on Morrison Street in Edinburgh. It specializes in Lebanese, Arabic, Middle Eastern, and Kurdish-style cuisine. The menu features a variety of options, including charcoal BBQ, slow-cooked dishes, and seafood. It's important to note that all the food served at Rojava Restaurant is halal. The restaurant has garnered numerous positive reviews on TripAdvisor, with guests praising the delicious food and friendly service.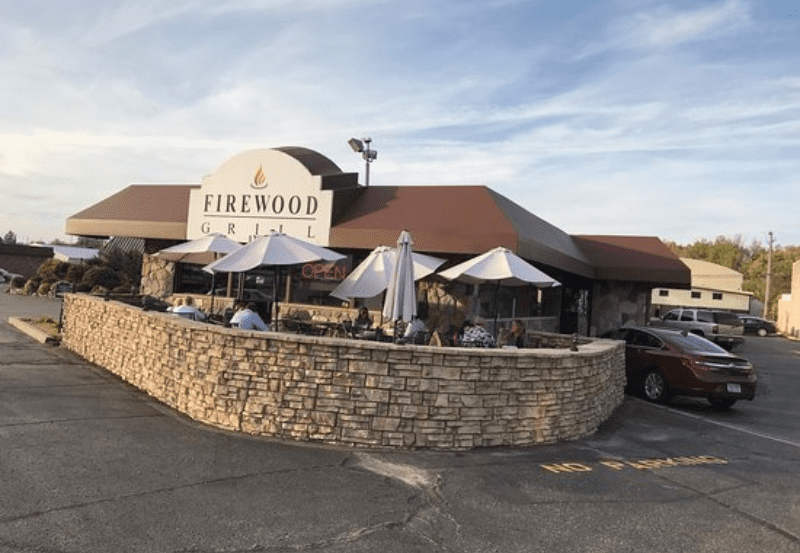 At 1202 E Grand River Ave in Howell, Michigan, Firewood Grill is a restaurant that welcomes people and their four-legged friends. The restaurant specializes in American cuisine and provides a varied menu that features a variety of appetizers, burgers, sandwiches, soups, salads, and seafood dishes, in addition to a selection of different main courses. Dishes such as Firewood Fresh-Cut Steak, Filet Skewers, Chicken Stir-Fry, BBQ Pork Tips, and Pasta and Meatballs are some of the restaurant's most popular selections.
Want to + add your website in this list?
Contact us on blogkinguk@gmail.com
EastZeast is a restaurant chain that provides customers with authentic Punjabi cuisine. In addition to Manchester, they also have stores in the cities of Bradford and Preston, and Liverpool. The purpose of EastZeast is to offer a look inside the dining routines of Indians in their own homes, and the name comes from the combination of the two words. The objective here is to fulfil the unmet need among Indians for vibrant and full-of-life tiffins with an incredible flavour.
Rasa Sayang is a halal restaurant nestled in London's Chinatown. It specializes in Malaysian and Singaporean cuisine and provides a range of options for vegetarian, vegan, and gluten-free diets. Customers have consistently rated Rasa Sayang highly on TripAdvisor, commending its ability to authentically capture Straits cuisine's diverse culture and distinct flavours. With its dedication to serving flavorful and accommodating dishes, Rasa Sayang has become a popular choice for those seeking an authentic taste of Malaysian and Singaporean culinary delights.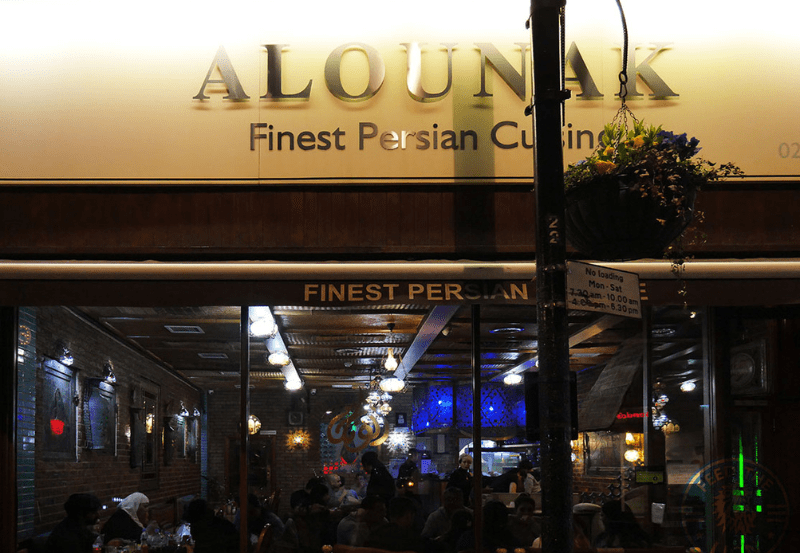 The Alounak restaurant can be found at 44 Westbourne Grove, London, United Kingdom W2 5SH. It is open to customers. In addition to specializing in Persian and Iranian cuisine and serving Middle Eastern food, they offer gluten-free, vegetarian, vegan, and halal dishes. Additionally, they serve food from other parts of the Middle East. Since its doors in 1995, Alounak has garnered a substantial following among individuals who value traditional Persian cuisine highly.
Want to + add your website in this list?
Contact us on blogkinguk@gmail.com
Conclusion
Looking to explore the vibrant halal culinary scene in the UK? Discover the crème de la crème of halal dining with our carefully curated list of the top 10 halal restaurants in the UK. From savouring delectable dishes bursting with flavour to immersing yourself in unique dining experiences, these establishments offer a feast for the senses. Whether you're a local or a visitor, these restaurants will leave an indelible mark on your taste buds. Indulge in diverse cuisines, impeccable service, and warm ambience while adhering to halal standards. Don't miss your chance to embark on a gastronomic journey that combines tradition and innovation. Plan your next halal dining adventure today and savour the UK's best.